Margie Moran Today
Margarita "Margie" Moran today is now working to promote her adopted region, Mindanao, after marrying Davao businessman Antonio "Tony Boy" Floirendo (now Davao del Norte congressman). Moran trained her energies at developing the tourism potentials of Davao. She had put up a travel agency and set up the famous Pearl Farm to draw local and foreign travelers to Davao.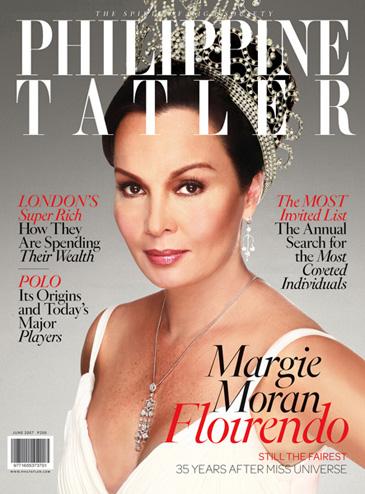 Margie had produced a documentary on Mindanao titled ''Healing the Past, Building the Future" and published a book "Mindanao: A Portrait." She also host the television program, "Margie On Mindanao", on ABS-CBN which focuses on the diverse and beautiful heritage of Mindanao. As a result of these projects, she had had the privileged of being able to travel extensively around the island and experienced both its wonders and its tragedies.
For months now, the travel-culture show, "Margie on Mindanao," has reminded viewers all over the country of the richness, beauty and diversity of Mindanaoan cultures and tourist destinations. The program did a lot to focus the nation's attention on the long-neglected Land of Promise, which some of its residents wryly describe as "forever promised and promising." "Margie on Mindanao" gave the country's second-largest island the showcase it deserved.
She is very much involved in "Tabang Mindanaw's Relief Operations" for the Evacuees and Victims of the Armed Conflict in Mindanao. Donations can be given c/o the Office of Ms. Margie Moran-Floirendo.
Now, Margie has a new role: that of a movie producer. Together with friends, Margie has established Bahaghari Productions Studios Entertainment Inc., and their first outing is Marilou Diaz-Abaya's "Bagong Buwan," a big-budget movie on the Muslim civilians caught in the crossfire of war. It is Star Cinema's official entry to the 2001 Metro Manila Film Festival which had won 6 major awards including 2nd Best Picture and the Gatpuno Antonio Villegas Cultural Award.
Two weeks ago, Margie was also among the founders of Women's Commission on Mindanao, which includes Peace Panel member Inday Santiago and Representative Patricia Sarenas. They're zooming in on problems of livelihood, education, health and good governance.
Margie is in Mindanao every week, and is a doting mom to two daughters. Fifteen-year-old Monica is in boarding school in London, while 11-year-old Gabrielle is studying in Manila. When she does chance upon free time, Margie plays golf, travels and enjoys the outdoors; for her show, this cum laude Maryknoll business graduate has actually gone rappelling and mountain-climbing.